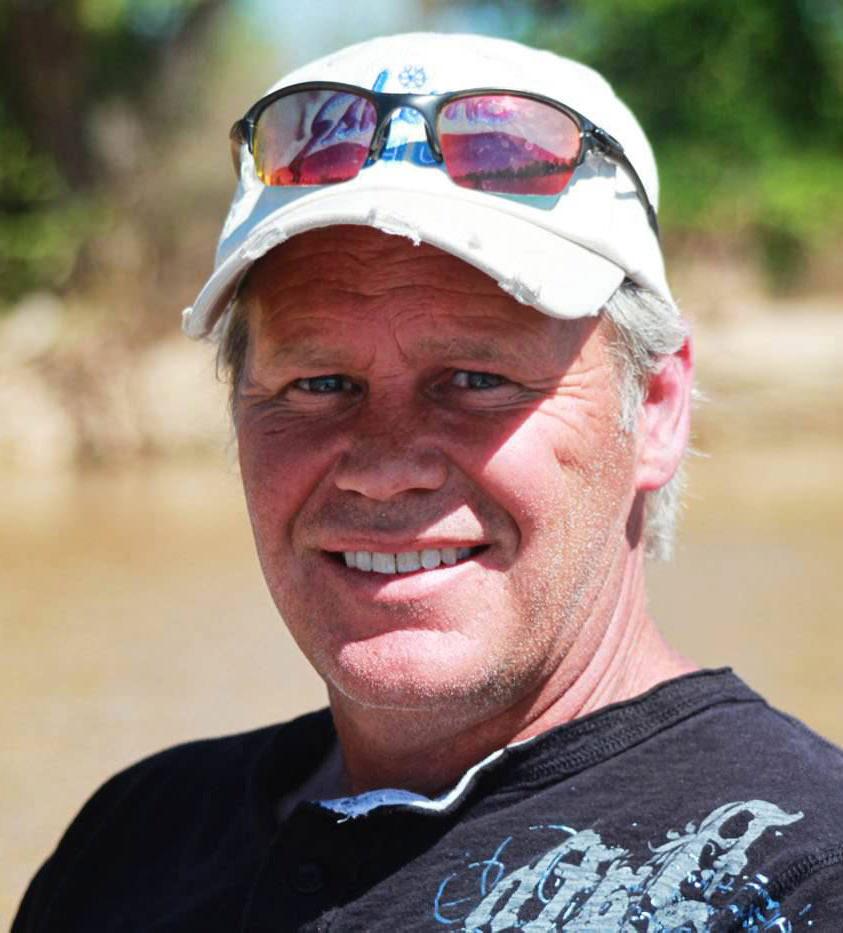 Hello, I'm James Mellard. I am a graphic designer and I create websites as well as advertising and branding materials in my little studio office just outside Wichita Falls, Texas on Lake Kickapoo. I'm older than I feel or would care to admit, am a Volunteer Firefighter & EMT and am currently the fire chief of the local volunteer fire department. I love to take short morning rides on my Harley or just sit out behind my house and occasionally get in an hour of crappie or bass fishing while watching and soaking in the calm and glorious beginning of the day.
This site (Mellard.com) is my personal website and little corner on the web. I love to fish, embrace freedom, swear occasionally, tweet politically, blog infrequently but spend more time on Facebook than I would like to admit keeping up with friends and family. I am unmarried but I live and share my life with an incredible woman whom I've known for many years now.
I am passionate about photography, web technologies & standards, great design and how to make them all come together. I am always available to speak with you about helping you with your web, design and/or special project needs.
Mellard.com is hosted by my company Mellard.net, which offers low-cost but feature-rich hosting and design solutions. I am always happy to store and serve out bits and bytes for those in need and am highly recommended by those that know me and use my services.
The Beginning Of My Journey...
After growing up on a farm/ranch and high-school graduation from a small town in southeast New Mexico, I spent a couple years at college studying electrical engineering but not sure exactly what I was wanting to pursue as a career in life, I moved to the Bay Area California where I took several jobs that afforded me the opportunity to explore graphic design and digital production work. A career that I never expected rolled out of those experiences. Some ten years later after moving back to Texas, I ended up working at several different leading advertising agencies in Fort Worth, Texas where I was able to hone the edges of my skills.
Will Schutz Associates - Muir Beach, California
After moving out to California, I took a job at Will Schutz Associates, an organization growth, and development company. I worked as a computer system manager and was introduced to Macintosh systems and never looked back. I was responsible for computerizing inventory control, invoicing systems, mail merges, and some pretty advanced database design. I helped to design some of the print instruments that they used in their trainings. I was also responsible for the purchase of computer systems for the offices and initial installation, design, construction and development of several custom computer applications for a small sales and consulting organization. This led to a relationship with Developer Services at Apple Computer and began my passion for graphic design and all things.
Marinstat Graphic Arts - Mill Valley, California
An opportunity offered itself to me of employment with Marinstat Graphic Arts, a printing and pre-press company. They were just making the start to transition from a traditional pre-press/print shop into the digital age. I came onboard to aid in that transition into digital pre-press technologies. Just as I was hired, they purchased some cutting edge Linotronic imagesetter and scanning equipment and I was onboard to help them shift their capabilities over from traditional stripping, separations and film output to the digital age using computers for scanning, layout, imposition, trapping and output to proofs and ultimately punched color separated film for press. I also set up an early BBS (bulletin board) system for them to interface and take in jobs from their customers back before the internet in the early modem days. I also took on responsibility in computer and equipment selection decisions and setup and installation. It was at this point that I started doing side work in Macintosh system consulting, design and special project work for clients that came in for printing and pre-press services.
Witherspoon Advertising and Public Relations - Fort Worth, Texas
After a move to Texas to be closer to my family I took a job at Witherspoon Advertising and Public Relations. I was hired to be a computer systems manager as well as work as a production artist with other designers creating graphics and preparing their work for printing as well as teaching them to do prep work themselves and to work on web and multimedia projects. I set up workstations, servers and implemented backup systems to make their files more accessible. I was also tasked with interfacing with local print and pre-press shops and overseeing the output of work designers had created. I would get to work with some of the best design talents in the area, something I had been accustomed to with my previous job and continue to hone my design skills. I also was assigned some design projects of my own while serving my time there. It was here where I was honored with winning my first Addy award for a website and associated presence on AOL's (RainMan) developed for Sundance Square in Fort Worth. It was during this tenure I got involved with Web Life Productions with a small stake in the company and also work with their clients on web projects.
The Balcom Agency - Fort Worth, Texas
I was hired away from Witherspoon with an opportunity to do more design and help set up a new ad agency in Fort Worth, The Balcom Agency. I would get to design the infrastructure for a network, computer workstations, and servers and backup systems at this new agency in their newly remodeled building. I would also get to put my hands on more design projects as well as get to continue to work with artists educating them on preparing their work for production. Witherspoon would try to keep me but I had already given my word to take on this new challenge. I would grow with this new agency which quadrupled in size and is now one of the largest and most prestigious in Fort Worth. I would be assigned accounts with Motorola, Justin Boots, and The Bass Performance Hall as well as other blue-chip clients and again get to work on print, multimedia, and web projects as well as a few "Special Projects". I earned my second Addy award (Honorary Best Of Show) while working at the Balcom Agency for a bold and daring yet simple performance art piece I came up with and executed at the last minute. Many would later say it was the most memorable "display" at that year's Addy Awards Presentation. I would later leave to go do my own thing and pursue larger web jobs with Web Life Productions as well as my own business.
McCormick Advertising - Fort Worth, Texas
I once again got sucked into the ad agency world and went back to work as a consultant/production artist/designer for McCormick advertising as a contract worker (couldn't resist the pay) for what ended up being a couple of years. I worked with them on the Dunlap's/mmCohn/Heironimus/Katz/Stripling & Cox accounts producing newspaper insert advertisements printing in the millions every week as well as other design projects.
Doing My Own Thang!
The time finally came for me to split from working full-time for various agencies and all the stress and overtime that that chosen occupation entailed. I went out on my own completely to enjoy working for myself and the clients & projects that I choose to take on. I had supported my own clients since my time in California but now it was time to fully depend on myself. I had previously taught myself HTML and had developed a lot of sites but chose this time to really dive into learning various content management web applications which is where I would focus my energy in the future. I learned both Joomla and Wordpress and would begin to move all my clients in that direction for their web needs. I would around this time also purchase my first high-end digital camera and would travel when I was able to many of the places I had been before in my life and begin taking photos of those places and developing my skill and my own style. The camera seemed to push me to slow down and stop and really soak in all the beauty that the west coast and southwest has to provide.
The Big Move.
As the end of 2008 rolled around, I decided to make a big move to Hawaii and sold my home and prepared for a big move. Just as my house sold the economy took a big dump and out of fear I changed my plans. I ended up moving from Fort Worth a little bit north to a lakeside community to be a bit closer to my aging mother. I put most jobs on hold for a bit and re-built a house at Lake Kickapoo. A year or so later I joined the volunteer fire department out here and once again became certified as an EMT as the community was in need of first responders. A couple years later the previous fire chief moved and that job of leading this department became mine. Since I work from an office out of my house it was a natural fit. I also made a split from Web Life Productions for my hosting and began to develop Mellard.net to service my clients hosting needs. I keep company with the local group of older crappie and bass anglers and when time to travel presents itself, my Nikon cameras.
I've had the pleasure of creating for, working with and/or managing clients such as; Apple Computer, Lucas Arts, Broderbund Software, Motorola, Galderma Labs, Justin Boots, Fort Worth Stock Show Rodeo, Determined Productions, Runaway Tours, Royal Cruise Lines, Atlantis Resorts, WAP Consortium, BNSF, Zales, Bass Performance Hall, Sundance Square, Fort Worth Convention & Visitors Bureau, Irving Convention & Visitors Bureau, Happy Hill Farms, Bell Textron, Fort Worth Business Press, Fort Worth Star Telegram, Davey O'Brien, Ben E Keith, Dunlap's, mmCohn, Heironimus, Katz, Stripling & Cox, Pier 1 Imports, Tandy, Sybase, Oracle, DingMonkey as well as many others. I have truly led a blessed life.